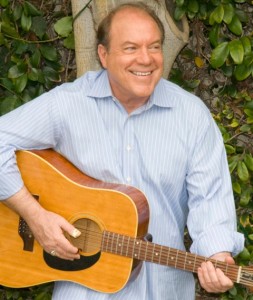 Growing up in New York's Greenwich Village, Mark was surrounded by a diverse mélange of musical influences including bluegrass, Bossa Nova, Delta Blues and Latin rhythms. His father, John Sebastian, was regarded as the greatest classical harmonicist of his time, while Mark's mother, Jane, was a novelist and managed Carnegie Hall.
As a teenager, Mark co-wrote a song about city life in August called "Summer In The City," which would become the sole #1 hit for his brother, John's, band, the Lovin' Spoonful. The verses had references to stickball games and other urban symbols of summer. The song's chorus promised relief: "…but at night it's a different world/go out and find a girl/come on, let's dance all night/despite the heat it'll be all right." John replaced Mark's laconic verses with more vital, upbeat ones that gave the song a punch, while Spoonful bassist Steve Boone added the quirky instrumental middle bridge. Recently awarded Billboard's All-Time Top Summer Song, "Summer in the City" has become iconic, and admitted Mark into an elite circle of songwriters who wrote hit songs for the teen market while actually in their teens.
After the success of "SITC," Mark led several bands on Long Island before finally settling into a regular spot as in-house opening act at the Gaslight and the Café Au Go-Go in Greenwich Village, sharing bills with Judy Collins, Tim Hardin, Sonny Terry, Brownie McGee and other folk and blues greats. As the folk scene waned in the '70s, Mark traveled to England and Italy, becoming involved in the nascent electronic music scene, writing and recording with serious composers in London and Rome.
Upon returning to the States, Mark moved westward, drawn by the Californian allure of albums like Brian Wilson's Pet Sounds and Van Dyke Parks' Song Cycle. Through a stroke of good luck, Mark met Brian Wilson, which resulted in collaborations on songs, and Wilson's enthusiastic support of Mark, including providing Mark with recording time at the Beach Boys' studio. Wilson was largely a recluse during this period, and Mark was one of the few granted access to him.
Mark made frequent forays into acting, helping establish the West Coast satellite of New York's cutting-edge theater group, La Mama, and performing with L.A.'s Second City improv troupe, Mark later became a staff songwriter at Earth, Wind & Fire's publishing company, which led to members of EW&F playing on his recordings of that time. It was also during this phase that Mark began a fertile and prolific collaboration, writing and producing in the studio, with Van Dyke Parks. Mark continued to play national venues, opening for Parks, Laura Nyro, Eric Burdon and other friends.
In recent years, Mark has produced independent films, but never strayed far from music. Quincy Jones' version of "Summer In The City" was much sampled by urban acts, including the Pharcyde's "Passin' Me By" and the #1 song "Stutter," by Joe, garnering Mark both an ASCAP Rhythm & Soul Award (2001) and a BMI Urban Award (2002). In 2007, he released his first full-length album, Bleecker Street, an amalgam of his folk roots and his infatuation with the lusher Southern Californian production sound.
His new album, The Real Story, embraces the same musical palette that has inspired Mark throughout his diverse career. From urban jazz to pop, with a mix of R&B/blues and a hint of surf, his latest effort draws from his array of influences and experiences throughout a life in music.